Titans East



Base of Operations

Steel City

Leaders

Bumblebee

Founding Members

Aqualad Speedy, Bumblebee, Mas y Menos

Notable Members

Kid Flash, Jinx, Aqualad Speedy, Bumblebee, Mas y Menos

Subgroups

None
The Titans East as they appear in fan-fics.
Leading Members
Edit
Bumblebee maintains her status as the leader of the Titans East from the series, but they still look to Cyborg when they work with the main team.
Notable Members
Edit
Aqualad
Bumblebee
Mas y Menos
Subgroups
Edit
Speed Demons 2.0
Edit
Shortly after the defeat of the Brotherhood of Evil, Kid Flash and Jinx joined the Titans East. They all then witnessed Superboy and Kid Flash's race, and Jinx and Speedy were called in to assist Superboy, Kid Flash, Robin, and Raven against Captain Cold.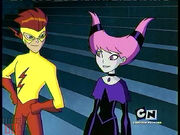 The Titans East discovered Superboy sleeping on their roof and laughed at the idea of him flying until Robin shouted at them, and they then encouraged Superboy with a cape as a confidence booster.
After Superboy cleared his mother, the Titans East congratulated him.
Ad blocker interference detected!
Wikia is a free-to-use site that makes money from advertising. We have a modified experience for viewers using ad blockers

Wikia is not accessible if you've made further modifications. Remove the custom ad blocker rule(s) and the page will load as expected.