Super breath as it appears in Teen Titans fan-fics.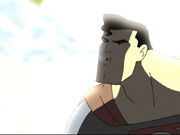 Martian Manhunter
Jax-Ur
Mala
Amazo
Appearances
Edit
Justice Evolution - Superman uses super breath to put out fires or freeze up dangerous opponents. Zod has that power as well. Amazo gained it when he scanned Superman.
Teen Titans - During a time when Superboy appeared to have a cold, he sneezed and blew himself and Raven into a wall, discovering he'd gained super breath. Zod, Jax-Ur and Mala have that power too, but the Titans are assisted against them by Superman and Krypto. Also, Bizarro's super breath was replaced with fire breath.
Starfire and the Seven Tiny Titans - Superboy still has super breath in his child form.
Superboy - Due to a technical mix-up, Superboy has all of Superman's powers already, having accidentally caused a woman to be blown into a wall as a baby.
Conner - By the time he was a teenager, Superboy had super breath, like his father, Superman.