Mr. Freeze



Real Name

Victor Fries

Alias

Dr. Fries

Race

Meta-Human

Gender

Male

Affiliation

Himself, Nora

Relatives

Nora Fries - Ex-wife

Powers

Super Strength

Weaknesses

Cannot survive outside of subzero environment.

Equipment

Freeze ray
Mr. Freeze as he appears in Teen Titans fan-fics.
Personality
Edit
While connected to the DCAU, Mr. Freeze is portrayed in the same tragic anti-hero way.
Thanks to the accident that made Dr. Fries into Mr. Freeze, he has incredibly enhanced strength. He also uses a freeze ray to freeze his opponents solid.
Weaknesses
Edit
Thanks to his accident, Freeze can't survive outside of a subzero environment, resulting in the need of his freeze suit.
Bats and Titans
Edit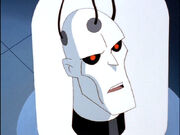 Once again defying alleged death, Freeze agreed to work with Batman, Batgirl, and the Teen Titans to face their mutual enemy, Grant Walker. Freeze later expressed that he might have expressed humor when Superboy fell in a hole made by Walker and Bane. Once the Titans wore Walker down, Freeze freezes Walker again. Following that, Freeze's mechanical body is destroyed by a falling stalagmite, so he surrenders himself to Batman due to having no reserves. His head is then placed in Wayne Enterprises.