Metallo



Real Name

John Corben

Alias

None

Race

Human cyborg

Gender

Male

Affiliation

Legion of Doom

Relatives

Powers

Super strength, invulnerability

Weaknesses

Removal of Kryptonite

Equipment

Kryptonite Heart
Metallo as he appears in Teen Titans fan-fics.
Personality
Edit
Metallo is usually portrayed as his DCAU self.
Metallo's Kryptonite heart gives him strength and invulnerability to match Superman's, and his Kryptonite heart also allows him to severely weaken and eventually kill Superman and Superboy without even trying.
Weaknesses
Edit
With the removal of his Kryptonite Heart, Metallo completely loses his power and is easily stopped. Also, he can't swim as it's impossible for him to even float.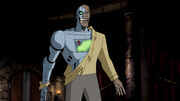 Metallo attempted to rob Jump City's National Bank before he was stopped by the
Titans
, including
Superboy
. He was then taken to Stryker's by
Batman
.
Grandson of Krypton
Edit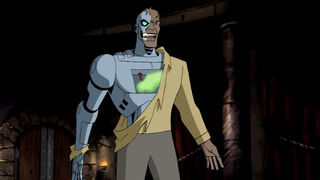 Recovering from his brain being shut down by Grodd. Metallo went to Jump City to rob a bank and steal exploding darts when he was confronted by the Titans. When the newest Titan, Superboy, charged at him, Metallo caught his wrist and twisted his wrist as he exposed his new Kryptonite heart. When
Cyborg
tried to help, Metallo knocked him into
Beast Boy
. Starfire then tried to kick him down to give Superboy time to recover, but she only ended up hurting herself. His Kryptonite heart's radiation was then blocked by Raven, so it couldn't supply him with power, or weaken Superboy. He was then punched into the sea.