Kole



Real Name

Kole Weathers

Aliases

Crystal Girl (Dr. Light)

Race

Human

Gender

Female

Affiliation

Teen Titans

Relatives

Marilyn Weathers (mother)
Abel Weathers (father)
Jinx (adoptive sister)
King Cheeetah (adoptive grandfather)

Powers

Transformation of Indestructible Crystal
Kole is a young superheroine and an Honorary Titan, and also the indestructible crystal girl.
Legend of the King Cheetah
Edit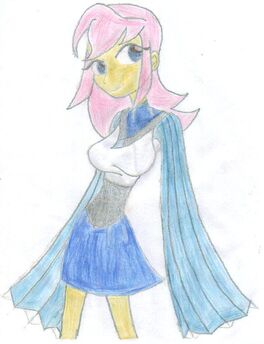 Kole is the youngest superheroine and the chosen one in the legend of the big King Cheetah, one of the three legendary Cheetah Teen Titans. The King Cheetah's old disciple known as Sierra is the female human Green Goblin who throws the pumpkins away against her enemies, Jinx and Kid Flash are going to fight against her, along with Kole, Gnarrk, Mas y Menos, Beast Boy and Speedy.
Episode Appearances
Edit
Season 5
Edit
The Legend of the King Cheetah
Kole Helps Jinx
Kole and Gnarrk Along With Spider-Man
Sierra Gets Angry With That
Teen Titans: The Movie
Teen Titans: The Movie 2
Teen Titans: The Movie 3
Teen Titans: Trouble in Tokoyo
Cartoon Network Punch Time Explosion 3
MUGEN
Appearance Count: 9 (+ 2 Video Games)
Kole has the incledible powers to transform herself into the indestructible crystal only, and she can be used as the weapon for her friend Gnarrk who she doesn't like the Teen Titans than, but she is very heavy when in her crystal form as an altered human.
Jinx, Kole and Sierra are from the origin of King Cheetah, their mighty adoptive grandfather.