The hot-headed daydreamer of the Titans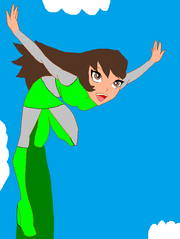 Green Flame

Real Name

Green Flame

Alias

None

Race

Half human,half Tamaranian

Gender

Female

Affiliation

Teen Titans

Relatives

Starfire-Aunt

Powers

Super strength,flight,star bolts,eye lasers

Weaknesses

Has a slight allergy to metal chromium(starts sneezing when near it)

Equipment

None
Portrayals
Edit
Green Flame shows a little bit of Starfire's personality while maintaning her own personality as well.She is a little brash and tends to use action before thinking.
Ad blocker interference detected!
Wikia is a free-to-use site that makes money from advertising. We have a modified experience for viewers using ad blockers

Wikia is not accessible if you've made further modifications. Remove the custom ad blocker rule(s) and the page will load as expected.