Commissioner Gordan



Real Name

James Gordan

Alias

Jim

Race

Human

Gender

Male

Affiliation

Batman

Relatives

Batgirl - Daughter

Powers

None

Weaknesses

Any Human Weakness

Equipment

Pistol
James Gordan as he appears in Teen Titan fan-fics.
Personality
Edit
As he's meant to be the same as the DCAU Gordan, he has the same personality.
Gordan has no real powers aside from the powers that come with being a police commissioner.
Weaknesses
Edit
Gordan can be harmed by anything that can harm a normal human.
Titans Go to Gotham
Edit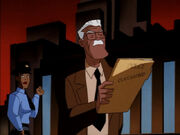 Gordon was told by Batman that the Titans would be watching Gotham for awhile, and when Croc began attacking the Banking District, he told the Titans.
Ghosts of the Past
Edit
Gordon then informed the Titans about Ra's Al Ghul calling them to the old carnival.
Poison Ivy's Pollen
Edit
Gordon later arrived to take Ivy, captured by the Titans, back to Arkham, questioning where Starfire and Blackfire were.
Mystery of the Catgirl
Edit
About a week and a half later, Gordon called the Titans to the police station and explained that an informant, Catgirl, had revealed that Two-Face was up to something.
Bats and Titans
Edit
Gordon later explained to a returned Batman that Walker had escaped Arkham with Bane and pulled strings to have Freeze released, so he could help.