Clayface



Real Name

Matthew Hagen

Alias

Matt Hagen

Race

Human

Gender

Male

Affiliation

Secret Society

Relatives

Powers

Super strength, invulnerability, shapeshifting

Weaknesses

Extreme heat

Equipment

None
Clayface as he appears in Teen Titans fic.
Portrayal
Edit
Clayface is portrayed the same as in the DCAU, an actor first but commiting various crimes.
Clayfaces clay body gives him super strength, makes him invulnerable, and allows him to shape shift.
Weaknesses
Edit
Clayface is vulnerable to extreme heat, which will result in him becoming glazed.
Clash for Control
Edit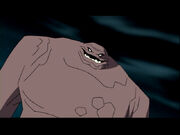 Somehow recovering from his fight with the Justice League, Clayface was recruited by
Zod
to attack a prison in Jump City. He then ran into the Titans and fought them. He was able to survive an attack from
Starfire
and a combined attack from
Robin
and Cyborg followed by another attack by Starfire. He then pulled Superboy into himself and tried to suffocate him before Superboy was released by an extremely powerful Star Bolt from Starfire. Clayface was then incapacitated when Raven froze him in place with her powers and Beast Boy rammed into him. Clayface was then gathered up and sent back to Arkham.