Batgirl



Real Name

Barbara Gordon

Alias

No information

Race

Human

Gender

Female

Affiliation

Batman

Relatives

James Gordon - Father

Powers

None

Weaknesses

Her teammates in danger.

Equipment

Batarang, explosive Batarangs, grappling hook
Batgirl as she appears in Teen Titans fan-fics.
Personality
Edit
Batgirl's personality is usually that of her DCAU self or her The Batman self.
Batgirl has no powers aside from a photographic memory and her bat-themed gadgets.
Weaknesses
Edit
Batgirl has weaknesses the same as any other human in addition to her friends and father being in danger.
Bats and Titans
Edit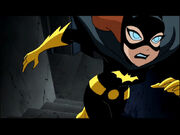 Still working with Batman, Batgirl came to his and the Titans' aid while investigating where Walker and Bane are. When Batgirl was hit on by Cyborg and Beast Boy, Batgirl countered by claiming to have shoes older than the two of them. Batgirl then congratulated Robin when he figured out a hole Superboy fell in may lead to Walker and Bane. Batgirl then witnesses Mr. Freeze defeat Walker.
Raven Wayne II: Dreams Come True
Edit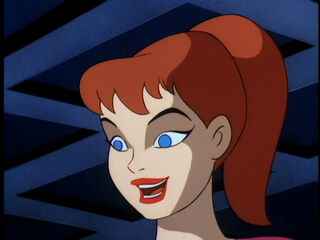 Barbara is the brightest girl in the castle and becomes one of
Raven's
ladies in waiting after her marriage to Conner. While trying to help Lana wake Raven up, they realize that it's Raven's dog
Mel
, and Barbara is surprised by this. In the kitchen, Barbara is introduced to Raven, and she is stated to find out anything Raven would want to know. While Raven was getting put into a new dress, Barbara said she'd have the tailors try and get a new color for it. Barbara also agreed with Lana that the royal curtains shouldn't be opened. Barbara also taught Raven who sat where during meals. Barbara eventually bombarded Raven with review until she broke down and demanded a break.
Barbara was later encouraged to dance by Raven. She also decided to help Mel give birth, delivering several of the eight puppies, including the last one, who would be named Oddball.