Aquaman



Real Name

Arthur

Alias

No information

Race

Atlantian

Gender

Male

Affiliation

Justice League

Relatives

Mera - Wife

Powers

Super strength, invulnerability, breathing under water, telepathy

Weaknesses

His pride, his family in danger

Equipment

Harpoon hand
The King of the Seven Seas as he appears in Teen Titan Fan-Fics.
Personality
Edit
As Aquaman is meant to connect to the DCAU, he has the same personality as that counterpart.
Aquaman has super strength and has skin tougher than a rhino's. As an Atlantian, he can also breathe underwater and telepathically communicate with undersea life. His harpoon hand can also be used as a melee weapon as well as a grapple.
Weaknesses
Edit
Aquaman's key weaknesses are his ego and his family and kingdom being put in danger.
Going Home
Edit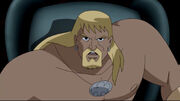 Aquaman attended Bizarro's funeral and placed a rose on his tomb.