Alfred



Real Name

Alfred Pennyworth

Alias

Al

Race

Human

Gender

Male

Affiliation

Batman

Relatives

No information

Powers

None

Weaknesses

Any Human Weakness

Equipment

Serving tray, stitching equipment
The Batman's butler as he appears in Teen Titans fan-fics.
Personality
Edit
As Alfred is meant to be the same one from the DCAU, he has the same personality.
Alfred has no powers aside from encouragement and medical skills.
Weaknesses
Edit
Alfred can be harmed or killed by anything that can harm a normal human.
Hulk Smash!
Edit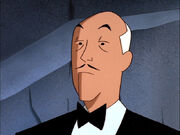 When Alfred saw Batman's new entry about the Hulk, he worried about a new behemoth until Batman pointed out that he just wanted to be left alone.
Titans Go to Gotham
Edit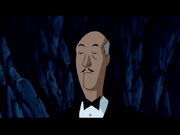 Alfred met the Titans when they began watching Gotham for Batman. He then told Robin that everything was fairly normal. After that, he agreed to be Starfire's friend. Next, he offered some food to the Titans.
Ghosts of the Past
Edit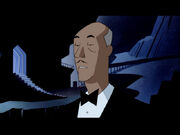 Alfred later hoped that he wouldn't have to worry about dogs anymore when Krypto and Mel run around and thanked Conner when he managed to get Krypto to calm down.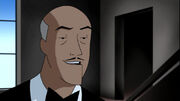 After the Titans fell asleep following a fight with the Joker, Alfred covered them up with blankets.
Poison Ivy's Pollen
Edit
Alfred later assisted Starfire in finding a high chair for Blackfire when she was temporarily turned into a baby.
Bats and Titans
Edit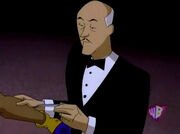 Alfred later asked Beast Boy to take his feet off the Batcomputer on Batman's request when Batman arrived. He also bandaged up Raven's leg and told her to stay off of it for a week, advising her to rest for a bit.
Ad blocker interference detected!
Wikia is a free-to-use site that makes money from advertising. We have a modified experience for viewers using ad blockers

Wikia is not accessible if you've made further modifications. Remove the custom ad blocker rule(s) and the page will load as expected.